We are back to warm your heart with some
Sunny News!
The Amis de Dhorpatan Team hopes you and your loved ones are healthy and that you enjoy being back outside.
We wanted to share the smiles of the new volunteers that joined us the past months.
We had the chance to receive the help of three 1st year Bachelor students of Communication Carcado SAISSEVAL school.. They worked on building a press distribution list during the month of February; a very useful tool to raise awareness about the Association.
Big thank you to them !

From left to right : Anaïs Aubry, Lola Figard and Chloé Do Rego.
We also received help from 3 students of EDC Paris Business School – La Défense. From April 16th to May 18th, they worked on developping sales in Nepal but also on opening to new markets in South East Asia such as in Hong Kong, as well as in Dubai. Thanks to their hard work, we will be able to ensure better revenus to Dhorpatan's growers.

Big thank you to them too !
From left to right : Emma Suarez, Mathieu Masson et Eliott Manuel
Above all, we wanted to thank all of you for following and supporting our work.
Thanks to your donations and generosity during Micro-don (in partnership with Franprix and Micro-don agency), we raised 500€ for the families in Dhorpatan. This money allowed us to distribute food and basic hygiene products to the most vulnerable people of Dhorpatan.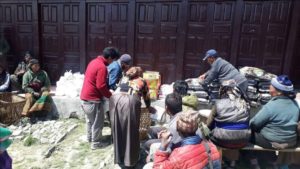 To continue supporting the villagers in Dhorpatan, who are also impacted by restrictive sanitary measures, we kindly remind you that :
You can make a donation to help the families of Dhorpatan.
You can become a member of the Association to support sustainable agriculture and keep up with our latest actions
You can support us daily and for free thanks to Lilo,the sustainable search engine.
Stay home
Take care of you.
And you loved ones.
Friends of Dhorpatan Team